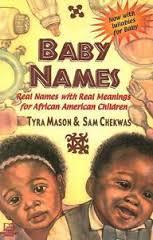 When it comes to finding an African name for you baby you'll want an accurate and comprehensive source. 
Real Names with Real Meanings
 is the most concise publication of authentic African names available.
Give your child a name that inspires confidence and pride in their African heritage. This name book includes names from all of Africa's rich and diverse cultures, from the Nile valley to the Cape of Good Hope, from Addis Ababa to Ashante.
The naming ceremony is very important to the African tradition. Give your child a name that will resonate with dignity throughout their life, a name that will dignify a glorious ancestry.