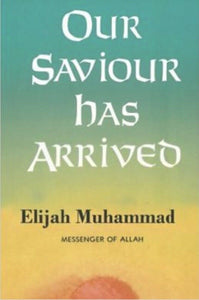 This title addresses the creation of God, the New World, and what's referred to as the "metaphysical" side of Elijah Muhammad's teaching. It eloquently delves into the subject of form and spirit in the simplest terms. The relationship of Jesus, Joseph and Mary is given a critical analysis as it relates to blacks in America. Dynamic emphasis on the deep theological aspects of the Supreme Wisdom.
Our Saviour Has Arrived is not merely a great title for this book, nor should it be taken lighly as a volley over the bow. For thousands of years the people of most religions have been looking for the appearance of God and now, Messenger Elijah Muhammad hearlds that Our Saviour has Arrived and proceeds to prove it in theological, spiritual, metaphysical and historical terms.
In the past it was simply a knee, jerk response to write the messenger of such a statement off and call it a day, but that type of day is over; for the level of wisdom contained in this book will not let that small time approach be tolerated.
You must either bring your best arguments and "proofs" of thow in your hats or crowns!