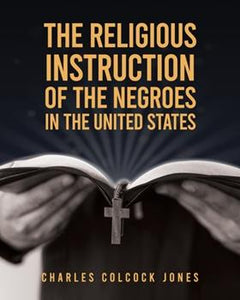 Charles Colcock Jones wrote The Religious Instruction of the Negroes in the United States as an extended sermon encouraging white clergymen and those who owned slaves to pay attention to religious instruction for their slaves and free black people in their areas.

The first part focuses on Jones' perception of the development of the population of slaves and free men across each state. The second portion shows a fascinatingly paternalistic critique of both slaves and slave owners by first criticising the black population for their lack of Christian virtue but rounding on the owners of slaves for failing to provide adequate religious opportunities. Whilst he certainly feels that the black population are ultimately morally dependent on the goodness of white, Christian men, he clearly wrestles with the knowledge that something in the social system is responsible for the discord and difficulty he associates with vice.

Charles C Jones is, whilst clearly and unacceptably biased to modern readers, a valuable insight into the cognitive dissonance maintained by prominent members of the slave owning establishment in the United States during his time. He argues systematically for a system of education for slaves whilst consistently underestimating the use that education has historically been put to by oppressed peoples. The awareness of his context's immorality lurks on the edges of his consciousness, never quite surfacing. All readers will come away from the book with a new determination to interrogate cultural norms, established traditions and conventional wisdom.